John Cary
John Cary is a partner with the Vose Law Firm, and is board certified by the Florida Bar in City, County & Local Government Law. He serves as City Attorney for the Cities of Brooksville and Bunnell, and as an assistant city/county attorney for each of the firm's other local government clients. Mr. Cary received his Bachelors of Arts (BA) degree from the University of Akron in Akron, Ohio. He received his Master's of Public Administration (MPA) from the University of Central Florida, taking courses focusing on Urban and Regional Planning. He received his Juris Doctor (JD) from the Florida State University School of Law in 2009, following five years as a Space and Missile Operations officer in the United States Air Force, where he was stationed at Cavalier Air Force Station, North Dakota, Cape Canaveral Air Force Station, Florida, and Vandenberg Air Force Base, California.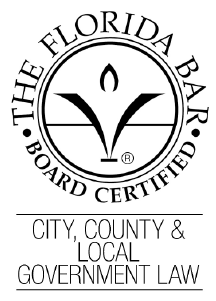 Mr. Cary was inspired to attend law school while taking the Land Use and Planning Law course in the final semester of his MPA degree. While he enjoyed planning and zoning and transportation issues, he really loved the legal aspects of land use. In law school, he took as many land use and local government-related courses as he could.
Mr. Cary began his legal career with the City of Ocala as the Chief Compliance Official. He then went on to serve in all three branches of the state government as an attorney for the House of Representatives Judiciary Committee, the Chief Attorney of Professions for the Department of Business and Professional Regulation, and the Senior Supervising Attorney/Operations Manager for Court Education in the Office of State Courts Administrator.
Mr. Cary then returned to his roots as a local government attorney, becoming the Assistant City Attorney for the City of St. Augustine. In addition to assisting the City Attorney in all manner of legal matters, Mr. Cary served as the advisor to the Planning and Zoning Board, the Code Enforcement, Adjustments and Appeals Board, the Lincolnville Community Redevelopment Agency, the Civil Service Board, and as police advisor to the St. Augustine Police Department. Mr. Cary prosecuted all municipal code violations as well as coordinated and assisted outside counsel in multiple litigation matters involving the City and represents the City in all Land Use and Environmental Dispute Resolution petitions.
Mr. Cary was recently selected by the City of St. Augustine to serve as its Special Magistrate. Mr. Cary is a member of the Florida Bar, in addition to being licensed to practice law in Michigan and Colorado. He lives in St. Augustine and is a member of the local bar association in St. John's County, the St. Augustine Inn of Court, and the St. Augustine Sunrise Rotary Club.